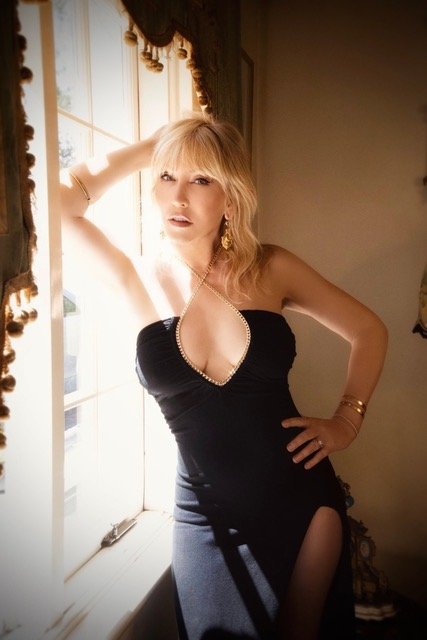 Mel's Story of Wheels & Dollbaby :
Named after a 1967 episode of Get Smart, Wheels & Dollbaby, has evolved from its initial roots of iconic Australian flagship boutique, to an international cult brand that epitomizes rock'n'roll luxury, with the decadence of luxurious fabrics against playful construction. Designer and founder Melanie Greensmith was born in the United Kingdom to a cricketer father and showgirl mother, inspiring the theatrics behind the Wheels & Dollbaby aesthetic.
Greensmith opened her first boutique in 1987 on a burgeoning, bohemian Crown Street in Sydney when her first customer Michael Jackson bestowed the "Outfitters To The Stars" trademark onto the label. Greensmith's partner Mark McEntee of The Divinyls has also remained a source of inspiration to the luxury label and it's rock'n'roll ethos.
In 2006, Greensmith's designs exploded onto the international scene with world famous supermodel Kate Moss and her glamour squad the "The Mossy Posse" being seen at UK's Glastonbury festival wearing the controversially playful W&DB "Fuck Off I'm With The Band" tank top. Since then, the label has formed a worldwide celebrity following with clients including Katy Perry, Courtney Love, Blondie's Debbie Harry, Jerry Hall, Georgia May Jagger, Chrissie Hynde, Hailey Baldwin, Holly Madison, Margaret Cho, Britney Spears, Amy Winehouse, Slash, Kelly Osbourne, Scarlett Johansson, and Nicole Richie. The label has also produced internationally successful collaborations with iconic personalities Dita Von Teese, Ellen Von Unwerth and Pearl and Daisy Lowe.
Wheels & Dollbaby has consistently been featured in fashion bibles such as the French, Italian, UK and Australian editions of Vogue, UK & Australian Grazia, Harpers Bazaar, Vanity Fair and Elle Magazine, to name but a few.
The label remains independently owned and Australian made, as Greensmith continues to be closely involved as creative director and head designer, ensuring that her vision of timeless aesthetics remains true, enabling the longevity and undeniable appeal of the Wheels & Dollbaby lifestyle.